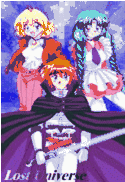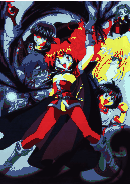 Fan Fiction Contest
Jeniam's Spot on the Web
The aim of this fanfiction contest is to find and explore new stories and plot lines, to develop the characters we have grown to know and love, in other words, to boldly go where no fanfic has gone before.
Rules of the Contest
The Rules are very simple and for the most part common sense, but I will go over them so that no assumptions remain to confuse the unwary.
1. Fics must be submitted by the author or with the authors permission.
2. Fics with glaring errors in grammar or spelling will not be considered. I'm not talking about typo's or minor errors, I mean the ones that hurt your head when you try to read the fic and make you want to swear because the story premise is good.
3. Last day of submissions will be the 15th of September 2001. Final results will be announced no later than the 30 of September 2001.
4. The categories for the fics will be as follows:
Slayers Long fic (10 000 words or more)
Short fic (less than 10 000 words)
Funny fic
Lost Universe Long fic(10 000 words or more)
Short fic (less than 10 000 words)
Funny fic
Crossovers within the Lost Universe/Slayers worlds can be submitted under either category.
5. No spam fics or lists
6. Fics will be judged using the following criteria
Plot line - 30%
Originality - 20%
Spelling grammar - 20%
Story layouts - 20%
Cohesiveness - 10%
7. The fics will be judged independently by three people and the scores averaged out.
Submission Format
Fics are to be submitted by email as a file attachment. The preferred formats are MS word or Word Perfect. However, I can handle most word processing format so most can be used except the most exotic.
The subject line should read fanfic contest
The body of the email should include the following information:
Title
Type of fic
Short description of the story line (one or two sentences)
When written or last revised
Whether or not the author requests proofreading comments from the contest judges
Just a quick note if you send a file with only the comments "I send this for your consideration" It will be deleted unread for obvious reasons. I got one of those the other day and thinking it was a fic submission requested another copy when the file came up corrupted (-_-);;
Good Luck and good writing all, as you can see we'll go to any lengths to find new reading material.
Back to