Jeniam's spot on the web
|
home




Megumi Hayashibara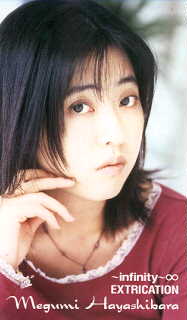 Date & Place of birth
30 March 1967
Tokyo, Japan
Neat Facts
She is a certified Registered Nurse. Her parents asked her to have a "safery net" career in the case Voice Acting didn't work out.
At a event that she was the main guest. She used her nurse training when a man who attended got ill. She was the only one in the room that had a medical background.
She has numerous vocal CD-singles and CD Albums.

Actress - filmography
(2000s) (1990s) (1980s)
Cowboy Bebop: Knockin' On Heaven's Door (2001) .... Faye Valentine
ôLove Hina" (2000) TV Series
Shikijitu (2000) ( English title Ritual)(voice) .... Woman
Pocket Monster: Kesshôtô no teiô (2000)(English title Pokemon: Lord of the Unknown' Tower) .... Musashi
Poketto monsutaa: Maboroshi no Pokemon X: Lugia bakudan (1999)(English title Phantom Pokemon: X's Explosive Birth .... Musashi
"Lost Universe" (1998) TV Series .... Canal Vorfeed
"Pokémon" (1998) TV Series .... Pidgey/Pidgeotto/Pidgeot
"Saber Marionette J to X" (1998) TV Series .... Lime
Kasei ryodan Danasight Four-Nine (1998) (English title Fire Force DNASight 999.9) .... Mî
Love & Pop (1998) .... Voice
Queen Emeraldas (1998) (V) .... Hiroshi Umino
Rupan sansei: Honô no kioku Tokyo Crisis (1998)(English title Lupin III: Tokyo Crisis) .... Maria
"Cowboy Bebop" (1998) TV Series .... Faye Valentine
Poketto monsutaa: Myûtsû no gyakushû (1998)(English title Mewtwo Strikes Back!) .... Musashi
Ganso Bakuretsu Hunter (1997) (voice) .... Tira Misu
Shin seiki Evangelion Gekijô-ban: Air/Magokoro o, kimi ni (1997) ....
Rei Ayanami/Yui Ikari
Slayers Great (1997) (voice) .... Lina Inverse
"Slayers Try" (1997) TV Series .... Lina Inverse
"Poketto monsutaa" (1997) TV Series .... Musashi/Fushigidane/Pigeon
"Bakuretsu Hunters" (1996) TV Series .... Tira Misu
"Saber Marionette J" (1996) TV Series .... Lime
Slayers Special (1996) .... Lina Inverse
Slayers Return (1996) .... Lina Inverse
Tenchi Muyô! In Love (1996) .... Achika
"Slayers Next" (1996) TV Series .... Lina Inverse
"Blue Seed" (1995) TV Series .... Momiji Fujimiya
Ranma 1/2 SUPER (1995) (V) .... Ranma Saotome
"Shin seiki evangelion" (1995) TV Series .... Rei Ayanami/Yui Ikari/Pen
Pen
Slayers the Motion Picture (1995) .... Lina Inverse
"Slayers" (1995) TV Series .... Lina Inverse
"Shounen Santa no daibôken" (1994) (mini) TV Series"(English title Adventures of Young Santa Claus), (voice) .... Mary
Bishôjo senshi Sailor Moon S: The Movie (1994) (voice) .... Himeko
"DNA²: Dokokade nakushita aitsu no aitsu" (1994) TV Series .... Saeki Tomoko
Macross Plus (1994) (V) .... Lucy Macmillan
Ranma 1/2: Chô-musabetsu kessen! Ranma team VS densetsu no hôô (1994)
.... Ranma Saotome
"Yû yû hakusho" (1992) TV Series .... Young Genkai
Bannô bunka nekomusume (1992) (V) .... Natsume "Nuku Nuku" Atsuko
Denei shoujo Ai (1992) .... Amano Ai
Yawara! Sore yuke koshinuke kizzu! (1992) .... Takeyuki Suzuki
"Mahô no purinsesu Minkî Momo" (1991) TV Series .... Minky Momo
Izumo (1991) (V) .... Nabi
Ranma ½: Chûgoku Nekonron daikessen! Okite yaburi no gekitô hen (English title Ranma 1/2: Big Trouble in Nekonron, China) (1991) .... Ranma Saotome Sazan Eyes (1991) (V) .... Pai
Eriaru visual (1989) (V) .... Kishida Kazumi
Garaga (1989) .... Kina
Project A-Ko 4: Final (1989) (V) .... Ume
Riding Bean (1989) (V) .... Carrie
"Ranma ½: Nettôhen" (1989) TV Series .... Saotome Ranma (female)
Kidô senshi Gundam 0080 pocket no naka no sensou (1989) (V) .... Cris
Project A-Ko 3: Cinderella Rhapsody (1988) (V) .... Ume
Project A-Ko 2: Daitokuji zaibatsu no inbô (1987) (V) .... Ume
Tenku no shiro Rapyuta (1986) ( English titleLaputa: Castle in the Sky) (voice)
Purojukuto A-ko (1986) .... Ume
"Mezon Ikkoku" (1986) TV Series .... Nanao Yosuke
Baburugamu kuraishisu (1985) (V) (English title Bubblegum Crisis) .... Nam